Obituary: Fr Ton Putman Mhm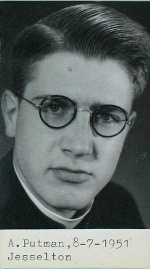 We regret to announce the death in Holland, on December 30, 2013, at the age of 86, of Fr Ton Putman mhm.
Father Ton Putman was born and baptized as Johannes Adolfus Antonius Putman at Rotterdam, Holland, in 1927, but throughout his life he was known as "Ton". He joined the Mill Hill Missionaries and was ordained a priest at St. Joseph's College Mill Hill, London in 1951, when he also received his appointment to Sabah, the Diocese of Jesselton – as it was then known.
He worked in several places, in Sabah, but the place that was especially dear to him was the Parish of Toboh, now in the Diocese of Keningau. This love for the people of Sabah was to remain with him all his life, even when, in 1972, the Government cancelled his work permit and told him to go. Instead of obeying, he hid, because he wanted his people to know that he was not leaving them willingly. However, after a few weeks, he and the other Mill Hill men, who had resisted, were caught, put in prison and then expelled from the country. Archbishop Emeritus Peter Chung, then Bishop of Kota Kinabalu, remembers visiting them in prison and finding all of them very joyful and in good spirits – and when they were taken, by the police, to the airport, they insisted on marching to the plane in white cassocks and with their red Mill Hill sashes a-flying!
After a period of recuperation in Europe, Father Ton wanted to come back to South East Asia and so, being blacklisted from Malaysia, he accepted an appointment to Indonesia where he continued his pioneering-style missionary out-reach for a further 37 years. He worked first in Pontianak from 1974-1982 and then, when men of his age tended to embrace an easier style of life, he volunteered to work in Agats Diocese, Papua, physically a very hard place and remained there until 2010, when ill health forced him to return to Holland.
I remember meeting him in 2008, when he stayed with me for a day in Bali and we talked long about Sabah, which was still dear to his heart. I think it was the memory of this meeting, which prompted me to write to him, a few weeks ago – the first time I had done so – and tell him that he was still remembered in Sabah and that Toboh had named their new church hall the "Father Ton Putman Hall". I also told him that Mill Hill now had a seminarian from Toboh and he was soon to begin his third year of formation. Father Ton was too weak to reply to the letter, but the Rector of the Mill Hill Retirement House wrote and told me of Father Ton's great pleasure on hearing the news, especially that someone from Toboh was taking up his missionary mantle as a Mill Hill Missionary. Ten days later, he died.
The Mill Hill motto is "To love and to serve" and this is symbolized by the red sash that Mill Hill Missionaries wear. When I think of the hardships that Father Ton gladly underwent in order to live up to his missionary dedication of love and service, both in Sabah and Indonesia, I am reminded of the passage from the Book of Genesis 6:4:
"In those days, there were giants in the land!"
May our prayers now help him as he sets out on his last missionary journey – home to the house of his Father. – Fr Terry Burke