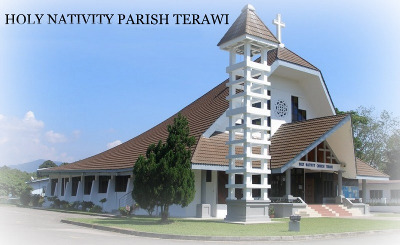 A legend says that Terawi Village got its name when the merchants from Brunei anchored and stopped overnight there during the Ramadan fasting month for Muslims, they entered praying the tarawih. From that event, Kampung Tuaui was renamed Kampung Terawi. They were accepted or welcomed by the leaders at that time who gave them full cooperation. A woman leader from the village Tuaui was awarded the title of Minister-Leader Babu of Brunei. Among her descendants is Fr John Mansul.
Terawi Parish is situated between Donggongon and Putatan Township on a five-acre piece of land. It has a Catholic population of 7,290 out of a total population of 12,000 scattered in the villages of Monsopiad, Mahandoi, Tuaui, Kanadaru, Bukitas, Sukod and Talang Taun, mainly Kadazandusuns. The parish comprises Holy Nativity Terawi, St Simon Duvanson, St Peter Tombovo and Our Lady of Fatima Talang Taun.
The first missionary to reach this place was Fr Alexander Prenger in June 1885. Among the missionaries who came here was Fr Florian Jud in 1959-1960. Its history as a Catholic community began on 3 Aug 1977 under St Michael Penampang Parish with the name of Terawi Catholic Community Council. Later, it was renamed Terawi Catholic Community Pastoral Council. The Marian grotto was built in 1984 while the present 800-seating capacity church was built in 1993. The parish hall was completed in 1999. On 1 December 2010, Archbishop John Lee changed its status to a parish now known as Holy Nativity Parish Terawi, making it the second parish in Penampang District with Fr Dr Peter Abas, the first Putatan-born priest who hails from Talang Taun, as its resident parish priest. The Shrine of Mary Mother of Hope was added in 2010.

Address: P.O. Box 218,
89507 Penampang Sabah
Email: hnctterawi@yahoo.com
Tel: 088-761495
Fax: 088-761567
website: Holy Nativity Terawi
Parish Priest: Fr Federick Raymond (2016)
PCC Chairperson: Mr Cornelius Jiloh Eyong
Masses available:
Sat: 6:00pm (EN)
Sun: 7:30am (KD)
Vocations
Fr Peter Abas (ordained 1986)
Fr Alex Jimsy Julius (ordained 1995)
Fr Nicholas Stephen (ordained 1997)
Fr Simon Kontou (ordained 1997)
Pastors Past & Present
Fr Peter Abas 2010
Fr Florian Marcus 2010
Fr Thomas Madanan 2014
Fr Federick Raymond 2016
Fr Johnny Raju (assistant) 1.7.2019
Masses in the Sub-Parishes
Sun 7:30 am Our Lady of Fatima Talang Taun
Sun 9:30 am St Simon Duvanson
Sun 9:30 am St Peter Tombovo