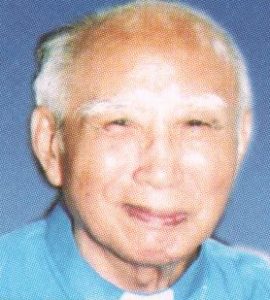 Father Tobias Chi was the rector of Sacred Heart Church in 1970, taking over from Father Dominic Bekema mhm.  The church then was 21 years old (built in 1949) and facing dangerous structural problems.
"The people who came to church were afraid because they did not feel safe.  They sat near the doors … and Bishop Buis was not very happy because he (Fr Bekema)  called it a cathedral because he (Buis) was not bishop of a diocese," said Fr Chi.  The problems had developed because Fr Bekema had extended the church without regard to its structural consequences.
The permanent solution  was to build a new church, all the more justified when Sacred Heart Church became a cathedral in 1976.  Fr Chi's idea of a new church was conceived when he was in Sandakan, before he even came to Sacred Heart.  The details were so vivid in his mind that he even made a model of it.  Father Preyde, who was then in Lahad Datu, liked it so much that he took it away with him, promising to return it, but he never did.  When Fr Chi came to Sacred Heart and the building of a new cathedral was being planned in the early 1970s, he had to design a new one.  He took inspiration from pictures of neo-catechumenate churches in Spain and Italy.  He knew what he wanted in the new cathedral building and made a drawing of his idea.
At that time, Datuk Herman Luping was the chairman of the parish council.  It so happened that an architect from England dropped by.  He was on leave and Luping introduced him to Fr Chi.  He was amazed at Fr Chi's drawing, exclaiming, "You know all about buildings!"  The architect was asked to make drawings of a new cathedral.  However, they were not accepted by the parish council.  The council decided to make use of local architects for the drawings.  The principal architect was Shen Dah Cheong of Wisma Arkitek, with a lot of input from Fr Chi.
Unlike the old cathedral whose main entrance faced the main road, the new cathedral faces the opposite way.  The back of the cathedral, which houses the Blessed Sacrament Chapel, faces the main road and is air-conditioned 24 hours a day.  Fr Chi explained that this was deliberately designed as such so that the chapel would act as a sound barrier to the main cathedral building – which is to overcome the noise caused by the busy traffic plying the main road.  By having thje chapel air-conditioned 24/7 enables the cathedral to be relatively quiet and distraction free during liturgical functions.
Regarding raising funds for the new cathedral, besides the big ones who donated, Fr Chi remembered individuals who came to his office and gave "small" amounts but "they gave with their hearts, which touched me.  This was really the people's church, they built it," he said.
In reflecting on the contemporary design of the cathedral, Fr Chi said that he liked what the neo-catechumenate churches had in Spain and Italy.  For instance, at the entrance of the church lies the baptismal font.  By having the baptismal font there, representing the first sacrament of the church, the people would encounter this first as they enter the church.  But in the new cathedral, this was somehow not achieved and the baptismal pool was placed not in the cathedral but in the chapel.  Anyhow, he said, where he did not succeed, Fr Cosmas Lee, as rector, did in 1998.  And Fr Chi was very pleased that in the end this was achieved.
Fr Chi also explained further the "futuristic" design of the new cathedral.  One can say, he said, that the base design was likened to a spaceship – narrow at the back (the Blessed Sacrament Chapel) and wide in front for the cathedral.  What was notable was the massive roof structure that dominated the design, likened to the shape of a "tent," a symbol of the church where the people of God, the Jews, met in the Old Testament.
Timeline
1973: Fund raising started
1975: Parish hall (Phase 1) completed
1977: Rectory (Phase II) completed. PAX Assembly accepted architectural plans for the cathedral building (Phase III)
March 1978: First monthly meeting of the building committee
Oct 1978: Leaflet on building plans issued to Catholics in Sabah
January 1979: Architectural drawing plans submitted to Kota Kinabalu Municipal Council for approval
February 1979: Started intensive six-month statewide fundraising campaign with sales of RM1,000 raffle tickets
April 1979: Structural engineering plans completed
June 1979: Tenders were called for building cathedral
August 1979: (1) Architectural plans approved by Municipal Council. (2) Building contract awarded to Pemborong Pembenaan Tam Kam in the sum of RM2,099,965.09
September 1979: Old pro-cathedral building demolished
November 1979: Site preparations
December 1979: Foundation work started
March 1980: Concrete structures for front and back entrances built
June 1980: Steel frames for side walls structures being installed
October 1980: Steel structures completely installed
December 1980: Awarded sub-contracts for electrical installation and sound systems
November 1980-May 1981: Installation of roof structures
June-September 1981: Installation of roof tiles
August-November 1981: Construction of bell tower
July-November 1981: Ceiling, electrical installation, sound system, telephone, PA system
5 August 1981: Visit of Cardinal Agnelo Rossi, prefect of the Congregation for the Evangelisation of Peoples, to the construction site.  He was accompanied by Archbishop Renato Martino, apostolic delegate to Malaysia, Singapore and Brunei.  The cardinal unveiled a plaque commemorating his visit near the chapel.  He described the building as a symbol of faith for the Diocese of Kota Kinabalu, and urged all Catholics to personally contribute some "bricks" for the construction of the cathedral.  He promised to send his "bricks" for the building.
September 1981: Awarded contract for manufacture of pews
October 1981: Installation of interior designs. External works such as concrete car park started
Fri 20 Nov 1981: State Choral Festival, Yayasan Sabah Auditorium
Sat 21 Nov 1981: Dedication of new cathedral
Sun 22 Nov 1981: Four Masses – Chinese, English, BM, Kadazan – celebrated in the morning by visiting arch/bishops. A youth Mass was celebrated in the afternoon.
SHC Building Committee
Chairman: Datuk Ben Stephens
Members: Datuk Thomas Chow Shee Seng Fr Tobias Chi Vincent Funk James Chin James Ng (treasurer) Joseph Leong (secretary)
Finance Subcommittee: Felix Poh Anthony Kong
Consultants: Shen Dah Cheong (architect), Wisma Akitet Sdn Bhd; Malcolm Zoe (structural engineer), Jurutera Konsultant Sdn Bhd; Jeffrey Lee Sing Hoi (structural engineer), Jurutera Konsultant Sdn Bhd; KC Wong (electrical engineer), Jurutera Konsultant Sdn Bhd; Khoo Kim Leng (quantity surveyor), Kumpulan Quantity Surveyors
Main Contractor: Pemborong Pembenaan Tam Kan Sdn Bhd
Electrical Subcontractor: Kong Wah Electrical Engineering
PA, Sound and Telephone Systems: Rakyat Radio & TV Centre
Founder Members of SHC
Christopher Lagan, Datuk Benedict Stephens, Datuk Herman J Luping, Datuk Thomas Chow Shee Seng, Francis Xavier Loh, James Chin Yun Kong, James Ng Kon Lan, Joseph Leong Sai Ho, John Hii Kim Teng, La Salle Brothers, Matthew Leong Chen Hee, Edith Laura Stephens, Pius Jie Sing Yin, Fr Tobias Chi, Stephen Wong Siak Fah, Thomas Lee Yen Chiang, Thomas Voo Hyen Vui
Major Benefactors of SHC 1974-1980
Akavas Sdn Bhd, Capital Timber Sdn Bhd, Chung Chao Lung Timber (EC) Co Sdn Bhd, Fong Seng (KK) Sdn Bhd, Heed Trading Co, Hiew Fook Realty Sdn Bhd, Hiew Shing & Sons Sdn Bhd, Hiew Shing & Sons Sdn Bhd, Hing Yip Construction, Hing Wah Pembangunan, Kayu Balak Chemei, Kwan Ah Hee, Kwong Borneo Development Co Sdn Bhd, Lai Fook Kim Bros Sdn Bhd, Lawat Sdn Bhd, Leeka Holdings Sdn Bhd, Lian Hing Construction Eng Sdn Bhd, Helen Chong Yun Tsu, Mdm SG Tan, Mark Pang & Sons Sdn Bhd, Nam Seng Co Sdn Bhd, North Borneo Timbers Sdn Bhd, Pang Brothers & Co, Perniagaan Tung Hing Sdn Bhd, Pua Din Kok Timber Sdn Bhd, River Estates Sdn Bhd, Sabah State Government, Sacred Heart Unicorn Dance Troupe, Sacred Heart Women's League, Syt Ayer Pasang Sdn Bhd, Syt Hap Seng Sdn Bhd, Syt Kretam Sdn Bhd, Syt Maju Jaya, Syt Persaudaraan Sdn Bhd, Syt Pertama Kayu Balak, Syt Sri Subor Jaya, Syt Warga Jaya Sdn Bhd, Tambisan Sdn Bhd, Tan Sri Datuk Thomas Jayasuriya, wife & family, Tai Wong Sdn Bhd, Teck Fatt Sdn Bhd, Tengkarasan Sdn Bhd, Tet Kong Sdn Bhd, Agnes Chong En Kyun (D), Tiong Seng Timber Co, Tong Hing Holdings Sdn Bhd, Willing Kayu Balak Sdn Bhd, Yong Bros (S) Sdn Bhd, Yong He Hong Sdn Bhd.