Pope Francis and "Sharing the Wisdom of Time": an alliance between generations
A new book published by Loyola Press highlights the wisdom of the elderly, their experiences and their insights as fundamental contributions to society. In the preface to the book, written by Pope Francis, he calls for an alliance between the young and the old to help counter the culture of waste.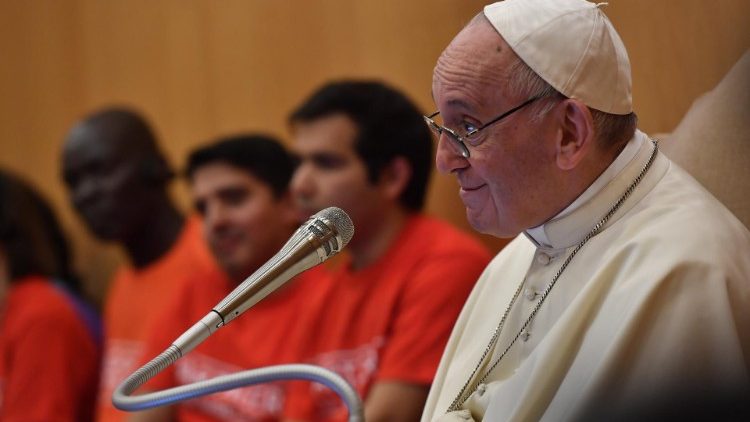 Vatican – Pope Francis is asking young and elder people to join forces to make the world a better place. Answering questions during a book launch at the Augustinianum Institute in Rome, the Pope invited young people to listen and to bond with their elders in an effort to counter a culture of waste, a growing indifference to the plight of migrants and refugees, and a dangerous resurgence of populism that spurns hatred and intolerance.
The event, dubbed as an "intergenerational conversation" presented a book published by Loyola Press and curated by Jesuit Father Antonio Spadaro, entitled "Sharing the Wisdom of Time".
The book contains stories gathered from elderly persons from all over the world. Its inspiration comes from Pope Francis himself who repeatedly expresses his belief that the young can only sink roots into the soil of tradition through their relationships with the elderly.
The 175-page book fleshes out what Pope Francis said he feels "the Lord wants me to say: that there should be an alliance between the young and old people."
In the preface, written by the Pope, he explains this alliance entails sharing the experiences of older people, heeding their advice and creating a strong bond with the new generations who are hungry for guidance and support as they prepare for their future.
"Sharing the Wisdom of Time" offers a collection of stories and wisdom from older people from 30 countries and from every walk of life.
The stories are organized in five thematic chapters: work, struggle, love, death and hope, and each chapter begins with the Pope reflecting on each theme.
Speaking off-the-cuff during the book launch, Pope Francis touched on current themes and issues such as migration and the tragedy of so many forced migrants and refugees who die during their journeys of hope and of the responsibility of policy-makers and world leaders to find solutions that safeguard the lives and dignity of all;  the importance of cultivating memory so that evils – such as wars –  witnessed in history are not repeated; the danger of populism that gives rise to hatred and intolerance. – Linda Bordoni, Vatican News, 23 Oct 2018