Trauma healing through contemplation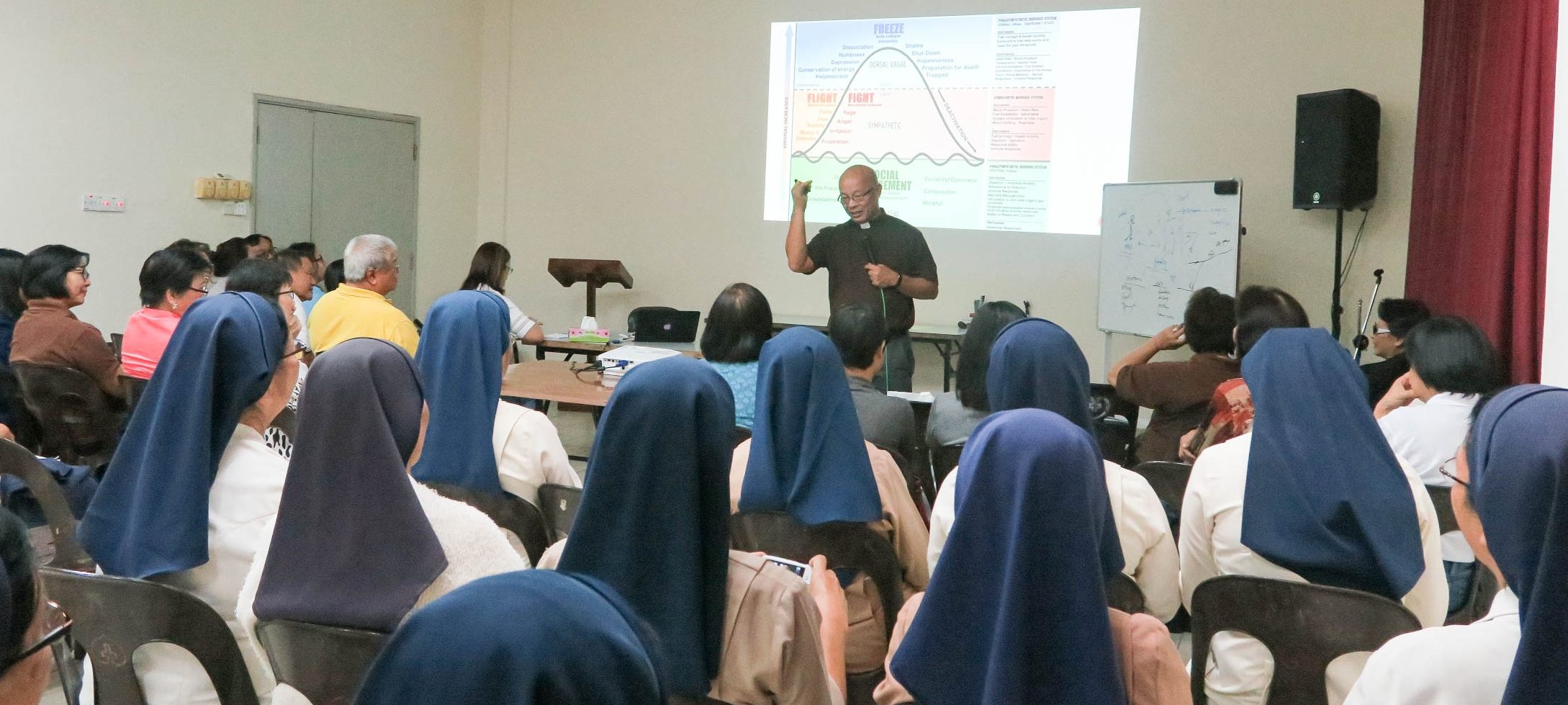 KOTA KINABALU – Difficult life experiences such as adverse childhood experience could cause trauma and toxic stress on the person which can lead to physical and emotional illness and substance abuse problems.
"But there is hope beyond hurt," said Fr Cornelio Jaranilla, OCD, at the talk on Trauma Healing through Contemplation, on 10 -11 September 2018 at Sacred Heart Cathedral, organized by Secular Order of Discalced Carmelites (OCDS).
"The best therapy is contemplation. When you experience God, you will be released from your traumas and pain," said the Filipino priest, who is also a clinical therapist, better known as Fr Kuni in the Philippines.
"Prayer of contemplation is like a 'turbo-mode' of healing because it is God's unconditional love," he said.
Fr Kuni said as age matures and the body develops, the mental and psychological areas also develop.  However, if traumatized during childhood they will either develop positively or negatively.
Trauma causes a psychological injury called Post-Traumatic Stress Disorder (PTSD) and can be intervened through therapy. As a registered clinical therapist, Fr Kuni generously conducted a group therapy to the 76 participants, as well as personal therapy to some.
The psychotherapy conducted is called Eye Movement Desensitization and Reprocessing (EMDR) involving an erasing of painful memory and installation of positive beliefs.
Through his many experiences, he said in Asian countries like Cambodia, Pakistan, Myanmar and India, adverse childhood experiences are mainly caused by cultural structure where children suffer the most.
"The Church should emphasize on family therapy through the Basic Ecclesial Community (BECs) because change (healing) does not happen at the top but in the family and in the community."
"To install positive beliefs, one needs two to five years, so we need a community-based therapy," he said, thus the need for local therapists instead of a fly-in fly-out therapist.
Fr Kuni emphasized that mental and psychological development must go hand in hand with their spiritual development. Spiritual awakening happens at an early stage of life and a response to the awakening is always necessary. To the degree that a person responds to the awakening, life will be changed.
In the spirituality of the Carmelites, St Theresa of Avila and St John of the Cross call this spiritual development; the Three Spiritual Ways. It begins with Purification which is a stage of putting one's life in order, Illumination where the person receives enlightenment and increased peace and finally Union where prayer of infused contemplation happens.
Fr Kuni said in order to progress in each stage, the person must enter into dark nights where he or she is stripped purposefully of consolations of God but at the same time, is assured of His presence.
"Mid-life crisis, which is characterized by tension, conflict and discontentment, can lead you to the dark night. It is a time for transition – leading one to open to the Mystery," he said.
In each stage, Fr Kuni said God purifies the soul and thus heals the traumas, in order to bring the soul closer to Him. – Linda Edward