Two new zones for St Michael Penampang parish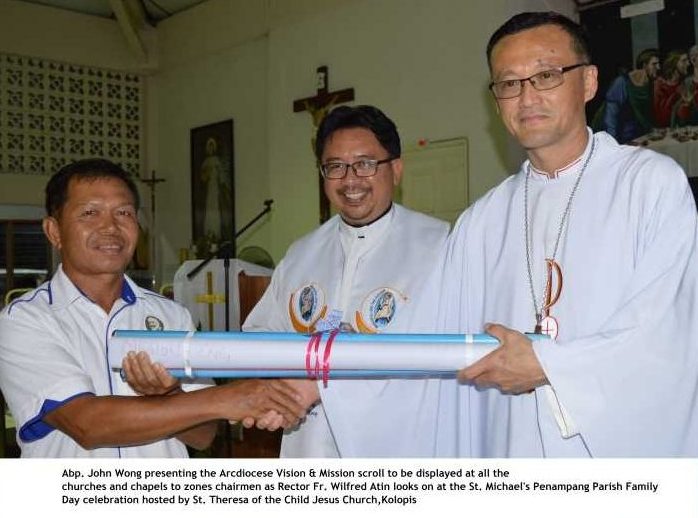 KOLOPIS, Penampang – Fr Wilfred Atin announced the creation of two more additional zones, Maang and Labak, to the existing nine zones under the care of the Penampang parish of St Michael at her 8th Family Day celebration hosted by St Theresa of Child Jesus Church, Kolopis Zone on 26 July 2018.
Presently, St Michael Parish encompasses  Penampang, Limbanak, Sugud, Kolopis, Minintod, Sukang-Madpai, Kinarut, Terian-Tiku and Timpangoh-Sugud zones.
Fr Atin added that the Archdiocese has also mandated Putatan to form its own Catholic Community, which will come under the  pastoral care of St Augustine Church, Kinarut zone, being the nearest.
The Family Day event kicked off with a Mass, presided by Archbishop John Wong.  At the event, the prelate reminded the faithful of the importance of preserving their mother tongues (Kadazan, Dusun, Chinese).
He urged them to liberally use their mother tongues at home and in the faith community, especially among the young, and not just for use during Church services, and cautioned them not to replace them with the national language.
Archbishop Wong reiterated that efforts must be made to promote their use as the medium of communication in the various activities and programs to avoid them from being diminished as time passes by. He added the faithful must be proud of their own dialects and to honor them as precious gifts for their particular race and culture.
Earlier, the week-long celebration had also organized a Kadazan Hymns Choir competition.
Divine Mercy Church, Maang has been selected as next year's host for the Family Day event. – Soccom Penampang