YouthPREPLink prepares youths for challenges
YouthPREPLink (YPL) through its programme, Preparation and Youth Outreach, responds to the need of preparing youths to face and handle life challenges as well as to enrich their capability in making decisions in such challenging situations. YPL is an initiative of the Good Shepherd Sisters which is being run in the Good Shepherd Welfare Centre, Alamesra. The initiative is also supported by committed volunteers.
Programme implementations are carried out in stages where the first is geared towards individual awareness and support system, while the second stage is focused on outreach and exposure to today's social realities. Besides that, the programme also helps them to sharpen their leadership skills, confidence and identity as Christian.
Ranau is one of the outreach areas for the programme since 2012 in which it has borne 67 graduates from 8 youth communities namely St Victor (Bongkud), St Gabriel (Perancangan), St Peter (Paginatan), St Martha (Kauluan), St Edwin (Maringkan), St Peter Clever (Ranau),  St Patrick (KiauBunduTuhan) and St Francis of Asisi (Kinorotuan).
This year's YPL programme will be organized by the graduates combined with youths of Ranau Parish. It will be held in St Augustine, Kg KibbasRanau Mar 16-22.
Based on the feedbacks and observations, the youths are reported to have more confidence in self, teamwork, leadership capacity, volunteerism spirit, self-preparation before furthering studies or working outside their hometown.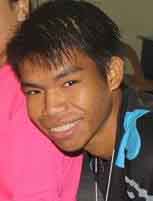 Halddy from St Edwin MaringkanBalisok shared:
"Thank God for the opportunity to share my lessons learnt in YPL 2013 held in St Victor Bongkud. The YPL was organized by 2012 graduates and Youth Centre YouthPREPAlamesra.
I would like to share with you the changes in my character, although gradual but producing positive effect. Personally I am rather shy and speak few words.  I limit my communication with small groups of people. The programmes encourage participants to be bold and confident in public speaking. So gradually I was able to find courage in sharing my opinion in public. The first level YPL (YPL 1) has helped me to gain confidence to speak English, although it was quite poor but I was learning. Getting to know new friends from other places such Kota Kinabalu was also exciting.
Following that, I was involved in second level YPL (YPL 2) where we were given an opportunity to organize outreach activities in St Martha Kauluan, Kundasang and my own hometown, St Edwin, Maringkan. The group was divided into two, each for children and for youths. I have decided to serve in the children's group. At first, I had mixed feelings of joy, shyness and fear. However, the co-operation amongst the working groups has really helped me to move on beyond my mixed feelings until the end of the programme".
YPL programme has been actively reaching out to youths in Kota Marudu since 2014: YPL-1 was in St Theresa for 6 days and YPL-2 in St Andrew, Mangkalua and St Michael, Pinatau for another 6 days.
It has taught them a lot about the social teachings of the church and about youth in leadership role to prepare them more before they migrate out from their hometown for studies and work.
Similar to Ranau, the next YPL programme in Kota Marudu will be in Mar 16-22.
Marialina George is among the earliest participants during last year's first YPL. She said YPL has helped her to experience self-discovery on her strength and weaknesses which enable her to move forward in life with confidence.
"I sensed an inner awakening that a great change was about to happen to me. The Lord has paved a way for me to discover those changes through YPL programme last year, the first in my hometown. During the session 'self-discovery and the mask' in YPL 1, everyone was asked to write facts about ourselves and at the same time wore a mask which concealed our true nature. I recognized many new things about myself and was most touched when I saw others with their masks on.  It made me realize that I should not judge the people around me because no one, including myself, is perfect.
YPL 2 has taught me more about self-confidence.   I did my first public speaking with trembling but this experience has helped me to know that it is possible to break the self-limiting timidity. Following that, I gained more courage and was prepared to learn more.
After YPL, this gradual inner change has led me to be more confident in school. I consult my teachers more about my studies, and I can do presentation in class with more assurance. I believe the programme can help me to be more successful in the future.
I call on all youths who have not joined YPL programme, especially youths of Kota Marudu, do not miss the chance to do so, it will help us individually and to prepare ourselves before we go out to the world."  – Evelyn Doikin