Pope Francis: What did you do for your brother?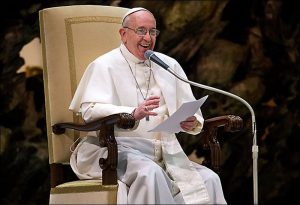 Pope Francis said that God will ask each of us: What did you do for your brother? (cf. Gen 4:9-10).
In his World Day of Peace Message 2015, Pope Francis called for a global mobilization to combat human trafficking and slavery, appealing to consumers to shun goods that may have been produced by exploited workers.
In his message, the pope denounced the "general indifference" that allows such practices to flourish.
"We are facing a global phenomenon which exceeds the competence of any one community or country. In order to eliminate it, we need a mobilization comparable in size to that of the phenomenon itself," he said in the message sent to heads of state and government, international institutions and religious leaders.
While he has told governments and institutions to do more to stop human trafficking and modern slavery, this time he emphasized individual social responsibility.
"Every person ought to have the awareness that purchasing is always a moral and not simply an economic act," he said in his six-page message, titled "No longer slaves, but brothers and sisters". (page 6)
He called on individuals and communities to "feel challenged … when we are tempted to select items which may well have been produced by exploiting others.  Some of us, out of indifference, or financial reasons, or because we are caught up in our daily concerns, close our eyes to this."
Francis also denounced "the growing scourge of man's exploitation by man" and said governments must do more to combat organized crime groups responsible for human trafficking. – www.huffingtonpost.com