Sandakan Hosts Malaysian Catechetical Commission Meeting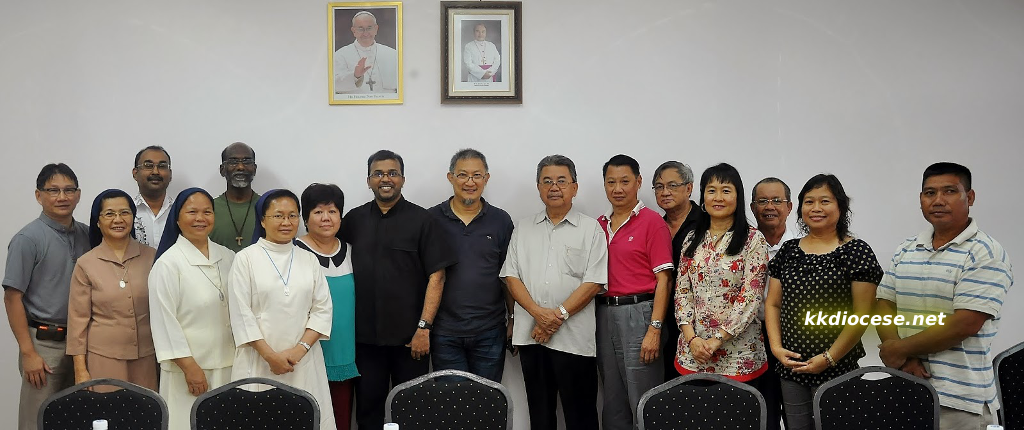 SANDAKAN – The Malaysian Catechetical Commission, a pastoral assembly for common action and cooperation on catechetical matters between the Dioceses in Malaysia, held its annual meeting at the Sandakan Diocesan Pastoral Centre Feb 25-27, 2014.
14 members of the Commission, comprising bishop, clergy, religious and lay leaders coming from across all dioceses in Malaysia and Brunei attended the annual event, hosted by the Diocese of Sandakan.  Out of the nine arch/dioceses in Malaysia, eight were represented. Brunei came in as observer.
The participants were Fr Mark Michael from Penang, Fr George Harrison and Roy Chua from Kuala Lumpur, Susan Tay and Fr Simon Yong SJ from Melaka-Johor, Fr John Anandan OFM Cap from Sibu, Paul Voon from Kuching, Sr Dariah Ajap FSIC from Kota Kinabalu, Sr Veronica Kandaung FSIC from Sandakan and Sr Christella Lim FSIC from Keningau. Fr Paul Shie, Priscilla Newn and N. Josie from Brunei attended as observers.
Bishop Cornelius Piong of Keningau Diocese, who is the President of the Commission, presided over the meeting session while Fr George Harrison, the Chairman of the Commission chaired the meeting proper.
Each diocese is given a slot to share on the progress and development of catechetical matters in the particular churches, what have been achieved throughout the previous year, the ongoing commitments and the way forward for the current year.  The Commission is committed to explore effective and conducive ways and means to pass on the faith to all sections and to bring them closer to God.
In the reporting session, members shared on the catechetical activities being carried out in the different dioceses of Malaysia and Brunei and to arrive at concrete recommendations to make the catechetical ministry more creative and appealing.
The theme for this year's Catechetical Sunday, 'Be courageous. I have overcome the world' – John 16:33, was discussed at length. Much time was allotted for this interactive session to discern and reflect on related issues of catechesis. Fr John Anandan OFM Cap has been assigned to prepare the reflection paper. All dioceses would work out seven ways to promote Catechetical Sunday so that it will be celebrated more meaningfully and with greater impact. The actual date for this year's Catechetical Sunday falls on 21st September.
In his homily for the concluding Mass, Bishop Julius Gitom reiterated that the role of the catechists is to help others grow in their personal faith and spirituality. It is a vital ministry for it is through our words and actions as catechists that the real message of Christ continues to take root in their hearts. Once properly formed in faith, they will have something to hold on in life. It is faith that will keep us close to God. It is faith that leads us to salvation. We are in fact passing on a living faith.
Mass over, the prelate presented the diocesan memento to all members of the commission.
The next annual meeting will be held at Holy Family Church, Kajang in the Archdiocese of Kuala Lumpur. – DOSPO