Fr Gastel: I am extremely proud to have served here in Sabah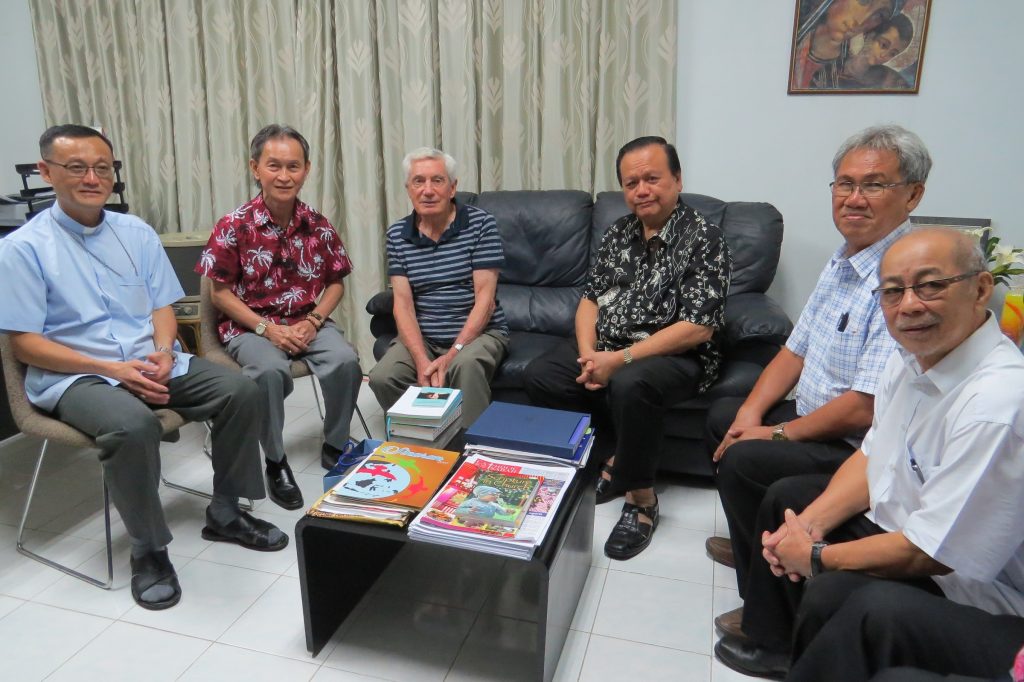 KOTA KINABALU – Forty six years ago, a freshly-ordained Mill Hill priest, Fr William Van Gastel, stepped ashore the land of North Borneo (now Sabah), not sure he could do what he would be tasked. But one thing for sure, he was to share the Good News of Christ to whoever he would meet.
He was only 25 when he was ordained in London on 12 July 1959, after completing two years Philosophy at the Major Seminary in Holland, followed by four years Theology at Mill Hill England. His first posting overseas was North Borneo.
Forty six years later, Fr Gastel, 84, arrived Kota Kinabalu Sep 22 to be assailed by many positive aspects of all that he has experienced during his tenure in Sabah, be they spiritual or material. So much so that he was driven to exclaim, "I am extremely proud to have served here in Sabah!"
He recalled on arriving at this Far East destination by the end of 1959, when he was almost immediately appointed to Limbahau, Papar (1960-61) as principal of St Mary's Limbahau and supervisor of the Catholic schools in Kinuta, Biau and Batu 8, Papar Road.
The tempo of service was unrelenting with his next appointment at Toboh (1962-63) where he was also required to do pastoral work in the many outstations, followed by a year's stint (1964-65) as principal of St John's Secondary School, Tuaran.
In 1966 he left for a renewal course in connection with Vatican Council II and a brief home leave to Holland, but by 1967 he was appointed to Penampang as principal of St Michael's Secondary School and supervisor of the mission schools in Inobong, Limbanak and Kinarut (1967-71). He had the added task of finishing the re-building of St Michael's Secondary School.
Realizing the change in the government education policy which had both great advantages and also its disadvantages, Fr Gastel persuaded Bishop James Buis to look for a lay-principal, to which the bishop reluctantly agreed.
His first visit (2018) after leaving Sabah in 1972 has been a meaningful and rewarding time revisiting memories and his ex-students. Catholic Sabah was informed that the classes of '69, '70 and '71 of St Michael's Secondary School, headed by Datuk Clarence Bongkos Malakun, were responsible to bring about "a down the memory lane" experience for their ex-principal.
Gastel recalled mixed feelings when he was first approached by Malakun for he has come away from the eastern culture and immersed into a different culture. "I am not sure if I can cope with the revisitation of a beloved culture tucked away into a far corner in my heart after all these 40 odd years," he wryly admitted.
Half way through his three-week long visit, he confessed that there were no regrets with his decision to visit. Uppermost in his mind, he did not manage to have a good closure with his students as he left abruptly because of the government's decision to expel foreign priests (see separate story).
The visit has provided for him to speak his heart to all those whose life he has touched, particularly the students, many of whom are now grandparents and retirees. Judging from their current standing in society and business, he has witnessed a successful, growing and glorious community come forth. He sees much more in the missions, more churches built, more involvement of lay people, etc.
"Though we thank God for the prosperity of the people who have come from simple rice planters, from difficult times, we need to be aware of the affluence of prosperity, and to watch out for the negative influences so as to avoid passing them on to their children," cautioned Fr Gastel.
He explained, "In difficult times, people come together but when in times of prosperity, there is a danger of people becoming individualistic, chasing only material wealth."
Finding that St Michael is doing very well academically during his visit to the school on the Feast of St Michael the Archangel Sep 29 as part of his program, he was especially happy to note that the school is training students to be also respectful of nature when he visited the herbs garden.
How the future of the schools would look like depends on the government, but he called on those who are parents now to "be united" and be "people of empowerment who would speak up and be a good representation" so as to ensure that their children would have a better future.
Fr Gastel ruefully admitted that he could not recognize all when some came up to him during his various visits in different places and asked "Do you remember me, Father?", though they had fond memories of him.
What he would like to be remembered, however, would be these parting words, "Forget the era of the missions. Don't live in the past. See the positive out of the negative. Watch out for the negative side of prosperity. Keep doing what you are doing, especially for the schools. Look for opportunities, particularly to raise up good leaders who will stand up for the local population." – Catholic Sabah